16th LS-DYNA Forum 2022: Register now for the central event for numerical simulation
On 11 and 12 October 2022, there will finally be a LS-DYNA Forum in Bamberg again. First-class technical presentations, informative workshops and high-quality keynote talks by renowned speakers from industry and research are, as always, what make the LS-DYNA Forum so attractive. For the first time this year, it is possible to present and participate in Bamberg or online.
Stuttgart, 13th September 2022
More than 100 technical presentations are the foundation of the LS-DYNA Forum, which is being held for the first time this year as a hybrid event. The event starts on Tuesday, 11 October with the first keynote talks at the Welcome Kongresshotel Bamberg. Afterwards, participants can expect two days of full programme with up to six parallel break-out sessions and a total of four workshops.
This year the following sessions are on the agenda of the LS-DYNA Forum:
| | | |
| --- | --- | --- |
| | | |
| §  Blast/Impact | | |
| | | |
| | | |
| | | |
| | | |
| | |   |
| | |   |
The online part of the LS-DYNA Forum starts in the morning of 12 October and ends in the afternoon of 13 October.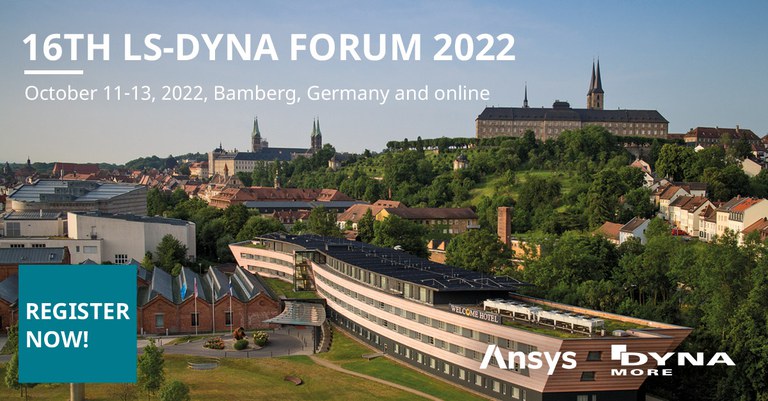 But already on Monday, 10 October, everything will revolve around numerical simulation with LS-DYNA in Bamberg. Under the motto "Meet the Developers" Ansys is organizing a pre-conference event at which the LS-DYNA developers will give well-founded insights into current trends and future developments. The agenda includes presentations by developers from the fields of forming, IGA, HPC, battery and many other current topics. The complete programme overview is available on our website at www.dynamore.de/en/mtd-2022. Participation in the event is free of charge. Interested parties can easily register for the Ansys event when registering for the forum on the DYNAmore website.
On the evening of 11 October, a Get-Together at the Welcome Kongresshotel will set the mood for the two days of the conference in a relaxed atmosphere. The next morning, participants can look forward to four keynote talks before the technical presentations begin. A detailed overview of all lectures can be found on our website at www.dynamore.de/en/agenda-2022.
The LS-DYNA Forum is also the first choice for companies wishing to present their range of services to a large international expert audience. There will be plenty of opportunity to make interesting contacts and maintain existing ones during numerous breaks and at the reception before the gala dinner. If you are interested in our exhibition, just send an e-mail to forum@dynamore.de and we will be happy to send you all the information on sponsorship and the exhibition.
DYNAmore is looking forward to a successful conference with interesting presentations, stimulating discussions and an entertaining framework programme.