Introduction
The general-purpose, implicit and explicit FEM software LS-DYNA is one of the most advanced simulation tools for nonlinear structural analysis!
The major development goal of Livermore Software Technology Corporation (LSTC) is to provide within LS-DYNA capabilities to seamlessly solve problems that require
"MULTI-PHYSICS"
"MULTIPLE STAGES"
"MULTI-PROCESSING"

'One code Strategy'
LSTC develops sophisticated tools for modeling and simulating the large deformation behavior of structures. In addition to LS-DYNA the tools LS-PrePost for pre- and post-processing, and LS-OPT for optimization are developed by LSTC.
Its fully automated contact analysis capabilities and error-checking features have enabled users worldwide to solve successfully many complex crash and forming problems. LS-DYNA simulation results have been consistently correlated with experimental data at various customer sites. These extensive tests give the user high confidence in using the program as an accurate simulation tool. Before each release, the program is subjected to rigorous quality assurance testing which consists of over 300 test problems. You find the most important functions of LS-DYNA in the menu option Features.
Main Application Areas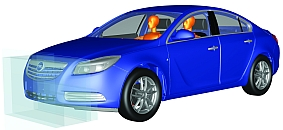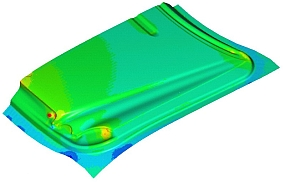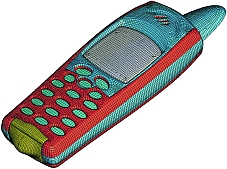 Crash- and pedestrian safety in automotive

Dummy, airbag, barrier
Seat belt, retractors
Automotive part manufacturing

Car body, seats, roofs, doors
Hoods, fender, bumpers,…
Simulation of manufacturing process

Deep drawing (incl. gravity sim. and springback)
Rolling, pressing, forging, casting, spinning
Superplastic forming, hydroforming, hemming
Multi-stage processes, metal cutting
Roller hemming, profile rolling

Glass forming
Biomedical applications
Stability/ failure investigations

Bounce and drop tests


Mobile phone
Consumer products
Tools
Nuclear vessels

Earthquake engineering
Aerospace


Bird strike
Jet engine blade containment
Material behaviour of composites
Blast loading
Spot-welded, riveted and bolted structures
Fluid dynamic
Fluid-structure interaction
Shipping containers
Eigenvalue analysis
Penetration problems
Plastics, mold and blow forming
Further Informations
You are welcome to order a free test license. With the help of the manuals, examples and the LS-DYNA support you can learn quickly the handling with LS-DYNA. Additionally, DYNAmore offers a wide range "LS-DYNA seminars".